ConsumersSposts is reader-supported. If you buy an item through the links on this site, we may earn a small commission at no extra cost to you. Learn more
Hammer has always emerged among the top bowling ball reviews; hence they're proven quality balls. As far as urethane balls go, a Ball from a hammer still carries the prize home.
Every expert bowler looks forward to the Hammer bowling balls Review. Not necessarily for the show, but because at one point, especially if they are explorers, they have seen its performance on the alley. Or at least always reading it in every article that comes up on bowling balls to reckon with.
Each ball type is unique, with features that impress bowlers for specific prowess.
So, what really is Hammer, a name so familiar in bowling?
Hammer Overview
Hammer bowling is a section in Ebonite International. It was, however, licensed to Faball USA back in '96.
This company became the first in making a urethane bowling ball in the market, which, amazingly, is Hammer urethane ball in 1981. Hence, it is no wonder the quality and popularity remain.
More interestingly, Hammer was the first bowling ball to bear a logo. And that's not all; the hammer brand ball invented a two-piece ball that is urethane in cover stock.
Incorporated into Ebonite International in 2002 after massive sales, Hammer continued releasing more balls. Every Hammer bowling ball review will confirm that this was never a mistake.
Below is a Hammer bowling balls review on a few of Hammer's outstanding balls.
Top 4 Best Hammer Bowling Balls Review
---
1. Hammer Scandal/S Bowling Ball Review
Pros
Performs impressively on heavy oil lanes.
High hook potential.
Capable of mid lane reactive aggression n, in addition to back end reactivity.
Weighty core, hence longer high speed.
Cons
Not at all suitable for dry lanes.
Want a high and motivating performance on heavy oil lanes, or even medium oil lanes? The Scandal/S must be what you are looking for. Let's have a look at the reasons.
Remember the CFI (Carbon Fiber Infused) cover stock in the original Hammer Scandal? The same has been used on Scandal/S and made it better to be Semtex Hybrid CFI. Hence, the ball efficiently absorbs oil, gaining a good hook potential that will give you outstanding performance.
With a 2000 Abralon TM finish to enhance the cover stock, the ball is best suited even for lanes that have just been oiled. The fantastic performance is further enhanced when you clean and polish the ball, giving you the back-end reactivity.
It takes over a mid lane, with an aggressive reaction that continues till it makes its hits on the pins. Actually, this ball has among the highest hook potentials in the market. Not to mention the obvious back end reactive performance the ball portrays.
The core is symmetrical, which makes, either way, you handle the ball perfect for rolling it. You have to be really aggressive, making it a top choice for expert bowlers.
Taking an instance of the 12-pound ball, the RG is 2.63, with a differential of 0.25. Of course, the two will differ, as will the core weight, with the ball size.
2. Hammer Black Widow Legend Bowling Ball Review
Pros
High hook potential.
Durable material.
More pins hit at a go.
Impressive hitting power that makes a win obvious.
Cons
Less suited for dry lane conditions.
Looking for a high potential hook for a better angle at hitting the pins? You will never go wrong with Hammer Black Widow Legend Bowling Ball. It is excellent on medium oil conditions and has also been commended for excellent performance on heavy oil conditions.
The high flare potential allows the ball to move in a curvy way, which helps to get hits even without an accurate target. This is not by chance, given the support the hook potential gets from the cover stock and the core.
To start with, the NBT reactive hybrid cover stock improves the hook potential of the ball series by far. With a 1000 grit finish that is coupled with powerhouse factory finish polish, the mid lane breakpoint will be impressive.
This is enhanced by the asymmetrical core, which allows even the beginners to have a good shot just by identifying the core. Besides, the core is made in a gas mask, which is incredible and with fewer failures in the bowling industry.
Just like other black widow series bowling balls, the legend makes for a never-disappointing ball. Amazingly, it is the first in the black widows to come with a hybrid cover stock, which did not disappoint.
Other than durability, the hybrid cover stock boasts rolling across the lane to hit the pins, with a back-end reactivity that ensures a knock on several pins at a go.
3. Hammer Black Widow Black/Gold Bowling Ball Review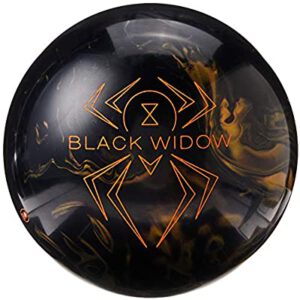 Pros
A suitable choice for medium to heavy oil lanes.
The back-end reaction is just about the best possible.
High hook potential.
Highly durable.
Cons
Minimal ball pitching styles, given the asymmetrical core.
If you are looking for a bowling ball whose back-end reactivity created fans, then hammer Black Widow Black and Gold is your best shot. The back-end reactivity ensures the ball gets to hit several pins, even those behind it, even after making a pass.
Fundamentally, this bowling ball features an aggression hybrid reactive cover stock. This soaks up oil from newly polished alleys, gracing it with impressive performance.
Not to mention the 1000 Abralon finish, which will always be on the best side of the cover stock to enhance a smooth roll on the lane.
The high rating hook potential ensures that both the right-handed and left-handed players have a flare advantage. You will be sure of knocking a pin either way.
Now that you have an asymmetric gas mask core, all you have to do is hold your pitch right. Then boom! You will have made it, given the fast movement of the bowling ball on the alley.
With an asymmetric ball, the pitch placement will be obvious. It will match the core, ensuring that even the beginner gets a chance to enjoy the game.
You can Also Read: Bowling Balls for Hook
You can Also Read: Bowling Balls for Dry Lanes
---
Final Verdict
With each Hammer Bowling Ball review, you must have realized how unique each ball is. Better still, how amazing each ball series is in its own way. Either way, all Hammer bowling balls have one thing in common, which led to the trust it has from all its users; quality.
The best part is that these bowling balls continue to evolve, putting an enhancement tinge on the older versions to make them better. The ball is now in your court. Get your best choice of a bowling ball.