ConsumersSposts is reader-supported. If you buy an item through the links on this site, we may earn a small commission at no extra cost to you. Learn more
Choosing the best bowling ball for beginners requires some prior knowledge.
Having a mediocrely constructed ball might keep you losing and still blaming your skills. Worse, if you are a beginner in bowling, you might end up quitting the game and thinking that it is not meant for everyone. If you don't want that to be your predicament, then stick with me. Do you want to identify the best bowling balls for a beginner quickly? What about the factors to consider while buying? That and much more in this article will give you fine details to start in the bowling game. But first is a well-researched list of the bowling ball for beginners.
Top 5 Best Bowling Ball for Beginners Bowlers Reviews
---
1. Brunswick Tzone deep space bowling ball Review
Pros
The hook potential is fantastic for beginners
An excellent performing ball and yet very affordable
The cover stock material is quite durable
Its weight works well for beginners or a pro looking for a spare ball
Cons
Its hooking capability is quite low hence not recommended for experts
If you need a ball that will give you an easy time while training, then this is the ball. Also, for the professional, you can use it as a spare ball to escalate your skills to greater heights. This ball has a low hook potential. Do you already dislike it? Just give me some time I will show you how the low hook potential will work for your advantage as a beginner?  Having a low potential, it implies it will strain you in getting hooked. Thus as a beginner, it will be quite handy in improving your skills
Bowling balls with a plastic cover stock tend to work well in dry lanes. Also, it is the perfect beginner bowling ball because it offers an excellent range of motions. Correspondingly, this Brunswick ball has a cover stock of a plastic material. As could guess, it will only work in dry lanes. However, it is quite durable to promise longevity. Also, due to its favorable level of aggressiveness, it will make you a pro in bowling in a few days.
Besides, the high-performance functionalities of this ball, it also has an elegant design. The cover stock has a glossy finish, which makes it eye appealing. Nonetheless, this ball comes in a variety of colors. Thus, if you are choosy when it comes to colors, you will not have to bear any limitations.
2. Pyramid path bowling ball Review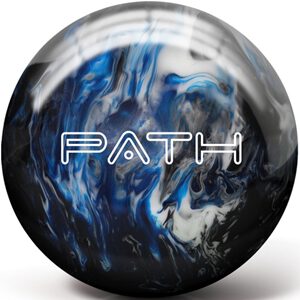 Pros
Due to its mid-size, this ball can be used by anyone
The polyester cover stock is quite durable
The inner core construction is sturdy
It has a factory finish polish which makes it elegant
Cons
The ball does not come with a carrying bag.
This pyramid path ball outstands the rest with not only a rigid construction of the cover stock but also the inner core. It has an asymmetric center of a pancake type. Consequently, it gives an easy time mastering the bowling skills. Similarly, as a result of its mid-size, this ball will be not only handy when you are a novice but also useful when you become a professional.
Most people think that it takes ages to master bowling skills. None of them amazes me, for I know where they get it wrong. However, I will disclose the secret to you. Everyone looks for a ball that will hook faster with a flawless motion. Is it right? That is where everything goes wrong.
However, for a beginner, I will suggest otherwise. Get a ball that will take forever to hook. Get a ball that will take you forever to score a strike. Do you know why? The patience and skills you will gain in the repeated throws are worth it. Yes, this ball has a low hook potential. Consequently, you can expect some tough time. However, it will help you in learning new tricks on how to win against all the odds.
---
Best Beginners Bowling Balls – Buying Guide
Cover Stock
Cover stock refers to the outer casing of the ball. If you want to throw your ball to a dustbin in the first few months after purchase, then don't consider this feature. The cover stock does determine not only the firmness of the grip but also the appearance of the ball. I hope by now, it makes sense why a skillfully constructed to cover stock is essential.
The main indication of well-performing cover stock is the construction material. Different materials will work on separate lanes. The most common cover stock constructions are:
Urethane: it is the standard bowling ball cover. It has a higher entry angle and covers the most boards on a lane. A ball with this type of cover stock is highly recommendable as the starter bowling ball due to the ability to control its mid-reaction. This ball works well on both dry and wet lanes. Hence, it will work for oil painted lane.
Reactive- resin: this type of cover stock will be handy if you need a highly aggressive ball. It also provides a ball motion of the broadest range. It is made of urethane, which has extra chemicals that give them a tacky feeling.  Reactive resin cover stock has its variations, which include solid, pearl, and hybrid reactive cover stock.
The solid reactive balls have the most significant number of microscopic pores. Also, its surface has a glossy finish, which helps to minimize friction. Hence they last longer. Their microscopic pores are fewer compared to the robust model when it comes to the hybrid reactive type. It combines the features of the solid and pearl types hence the best of them all. They have high versatility of friction and the most aggressive. Lastly, the pearl reactive cover stocks have a mica material which roughens the microscopic pores.
Plastic: there are also known as polyester cover stocks. It is the least aggressive cover stocks hence perfect for training. They work well on dry lanes.
Inner Core Material
Material is a crucial feature when purchasing a bowling ball. Just like any other item, the material should promise durability. But you could argue that the cover stock will protect the inner core?
But just wait imagine having a sturdy cover stock and inappropriate material on the core. Do you know what it insinuates, simply the ball will have quite weak impacts and also it will waste faster. Hence, the inner core material is essential, just like the covers stock. Most of the standard core materials are urethane and polymer-based products.  The density of the material affects the motion of the ball on the lane and also its weight.
Weight
A heavy bowling ball will reduce the player's ability to strike the target.  I guess by now you think that the small-sized ball is the perfect one. If you thought so, then know that also it is not an option. Are you in a dilemma?
If yes, just be patient—bowling balls' weight range from 6 pounds to 16 pounds.  The weight of the ball you will be using should be at least weigh 10% of your body weight.  However, this rule does not apply to anyone who weighs above 160 pounds, for there are no balls beyond 16 pounds. In such a situation, then you will have to settle for the most massive available ball.
Grip
There are two types of grips, which are the conventional grip and the fingertip grip. The convectional grip implies that you will insert the entire thumb, ring finger, and middle finger into the drills. When it comes to the fingertip grip, the thumb goes through the ball, but the middle and ring fingers go in up to the knuckles.  However, for the fingertip grip, you will require the inserts to create friction on the thumb. Now, which is the best grip between the two? Honestly, any of the two grips will work for a beginner. However, if you want to reduce the burden of the inserts, you should go for conventional grips.
Hook Potential
Honestly, this is the trickiest part while looking for an entry-level bowling ball. Do you know why? It needs a good understanding of physics. However, let nothing scare you. I will give the finest details in a silver plate without daunting you. Now, let us dive into the main deal.
The hook potential refers to the ball's ability to hook once it leaves the skid phase while in motion.  The main factor that determines the hook potential is the RG numbers. The higher the differential of the RG numbers, the better the hook potential.
If you are interested in hooking Bowling Balls then you can check our review.
Drill
If you have come close to a bowling ball, then you have seen hole configurations on the ball surfaces. The holes are known as drills. Bowling balls do not come with the hole configurations. Either, they are a must for every bowling ball.  Thus you must take the ball to professional to have them done. You should never attempt drilling the holes using the hand driller. Let an expert have your hand measurements to ensure that the holes are compact with your fingers. They should not be too deep. Either shallow, gaps will not serve their purpose. Hence hand measurements are vital when making the holes.
Price
Lastly, you cannot fail to check the market prices of the bowling balls. I guess you have heard the common phrase in the market that you get what you pay for. While that still holds, expensive items do not necessarily guarantee better performance. Thus it is vital to consider the other purchasing factors before concluding on the price.
Verdict
Success in every game requires persistence. However, having the wrong equipment's in the field will negate your perseverance and every other effort. Am I right? If you are skeptical, let me explain further. Imagine having an oversized bowling ball, which is of heavyweight. How will your throws be? Can you even hit the target?
I hope now you see the sense of not only having equipment but a skillfully crafted ball. In this article, you will get insights into the best bowling ball for beginners. Also, there is a guide that will be handy in the search process.