There is no doubt that bowling equipment is quite different in terms of structure and weight than other sports. If you are into bowling, you would probably know the struggle of finding a proper bowling bag with the right material and design to help you carry your equipment. This is when bowling balls come to the rescue, which is explicitly designed to help you keep your bowling essentials organized and make them easy to carry. While you can easily avoid straining your bones trying to carry the hefty balls, choosing a suitable bag can be hard.
BSI Overview
One trendy name among the bowling bag suppliers is BSI, Inc. BSI or Bowlers Superior Inventory, Inc. was founded in the year 2000 when the company identified an evident need for bowling support items. Today, BSI offers a wide range of bowling shoes for men, women as well as children, both for sale and for rent, bowling bags, and lockers. They provide bowling bags of different structures and designs to cater to the market's varying needs among bowlers, be it novice or professionals. Over the years, BSI has definitely earned synonymity with durability, style, superior quality, and affordability.
To make you get a deeper picture of the brand, here are our top BSI Bowling Bags Review!
Top 3 BSI Bowling Bags Review
---
1. BSI Triple Ball Roller Bowling Bag Review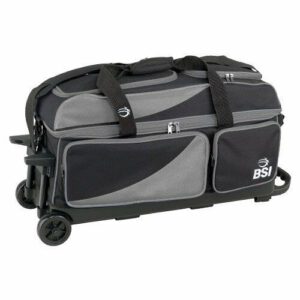 Pros
Sturdy material and durable stitching
Relatively bigger wheels (Diameter of 3 inches) allow stability and provide ease of carrying
Accommodates two pairs of shoes
Rubber support on the bottom allows the bag to stay upright
Cons
The zipper quality is not at its best
The zipper opens from the bottom compromising ease of opening the bag
Roller Bowling Bags were first introduced in the 1980s, immediately appealing to bowlers for the convenience they offer. BSI offers a range of roller bowling bags, perfectly designed to help you organize. One of the best roller bag offerings of BSI has to be the triple ball roller bowling bag, allowing you to carry three balls at a time.
If you are looking for large space and lots and lots of pockets to hold literally all your essentials and more, this particular bag is just for you. This trolley bag is designed to maximize organization and ease of carrying. With its large and smooth-rolling wheels and retractable tubular handle that can be raised up till as high as 11 inches, carrying this bag is as smooth as butter! In case you do not want to use the rollers, you also have the option to carry the bag using the two lifting handles at both ends – talk about versatility.
In order for your bowling bag to be able to carry heavyweights, it has to be extremely sturdy and with its heavy-duty materials, this particular bag is precisely that. The triple ball-bowling bag, as the name suggests, fits three bowling balls. It has three padded compartments and ball clips or straps to secure the balls in their positions. There are also two shoe compartments on the top that can hold shoes up to men's size 18 while other compartments at the ends and sides can hold your accessories, towels, and water bottles conveniently. As if that's not enough, the bag comes with a catchy neon orange color, which just adds to its unique style
So if you want a versatile, heavy-duty, large, and spacious bag, this is just the one for you.
2. BSI Taxi Single Ball Tote Bag Review
Pros
Plenty of compartments both inside and at the sides to hold a lot of items
Can carry one bowling weight regardless of the weight
Comes in a vibrant red-black color
Cons
Foams might not retain their shape with continued use and do not provide the same security level as paddings
Not for professionals
In case you want a smaller yet roomy carry bag, BSI has this single ball tote bag for you. Made with heavy-duty poly fabric, you can be sure that this sturdy bag can conveniently hold bowling balls of any weight. This carry bag is designed to hold one 10-pin bowling ball. With its padded compartment and straps, once again, you can be sure that your ball does not roll around within the bag while you carry it around. Removable foam inserts further enhance its capability to keep the ball where it is.
There is a shoe pocket that fits shoes till men's size 13, and separate organization pockets to fit your accessories.  You can carry it in the normal hand carry position as well as by the shoulder. The bag comes with a padded shoulder strap to ensure comfort even when you are carrying so much weight and can be taken off when not in use.
3. BSI Double Ball Roller Bowling Bag Review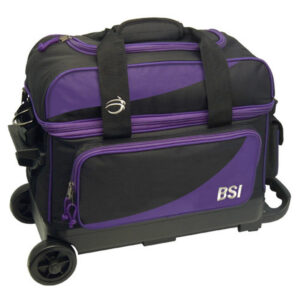 Pros
Large rubber wheels allow smooth and easy movement
Stylish design and attractive colors
Friendly design and size for people with smaller heights
Velcro strap inside the bag holds the ball in position
Sufficient handle length
Cons
Relatively smaller shoe compartment
The handle locks only in two positions – either all the way down or all the way up.
Just like the other BSI bags, the Double Ball Roller bowling bag is a perfect mélange of comfort, security, and style. Made with superior quality, sturdy material, this bag is perfect for carrying two bowling balls securely within padded compartments, provided that the padded divider can be removed if needed. Also, there are clips inside the compartments.
There are additional pockets to hold shoes up to men's size 13 and other bowling equipment and accessories, be it small or big, so that you can stay organized before a game and do not have to spend hours trying to find the smallest of things.
The BSI 2 roller bags use smooth rubber wheels and a sturdy extendable and retractable handle just like the other BSI roller bags. The bag itself weighs around 8.82 pounds while you can carry balls with any weight. This bag is also equipped with reinforced side handles so that you can carry it by your hands and also get it in and out of the car easily.
Final Verdict
In buying bowling bags, you need to consider a number of factors. Starting with the material used, which also happens to be the most crucial factor in determining the durability of your bag, to the number of compartments and pockets, to the quality and size of the wheels in case of roller bags, backed up by affordability of course. While there are many brands in the market offering some good quality bowling bags, BSI has from time and again proved to be the perfect combination of all these and therefore made it to the favorite list of most users. Now that you have read through (hopefully!) the detailed BSI bowling bags review, we hope you will be able to tell the brand off from other brands and make the right choice.